---
 OPEN FORMAT PARTY -URBAN BREEZE-
 DJ U5とDJ HOKUTOが送るニューパーティ「URBAN BREEZE」がキックオフ!
---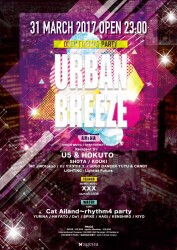 ---
時間
[NIGHT] 23:00
料金
DOOR: \2,500 / ageHa Member: \2,000 / International Coupon: ¥2,000 / (All Foreign I.D Holders) / STUDENT PASS: 当日料金の半額!! with 1Drink /(国内の大学及び専門学校の学生証提示)
アーティスト
U5 (Prog5)
,
DJ HOKUTO
,
SHOTA
,
JIROtokyo
,
Lightist Future
,
HAMMER
,
numbersixxx
,
YURINA
,
YuYu
---
★ ageHa
東京都江東区新木場2-2-10
03-5534-2525
---
ARENAでは世界的なスタンダードでもあるTOP40,HIPHOPを中心とする
URBAN MUSICを軸にHOUSE,ELECTRO,TRAP,ROCKなどワールドワイドなヒット曲まで
確実なスキルで貴方の五感にお届け!
さらにはSEXYなGOGO DANCERやバイリンガルのMCパフォーマンスもイベントに華を添える。
踊るも良し、歌うも良し、皆で騒ぐも良し、1ヶ月に一度のプレミアムフライデーをageHaで楽しもう!
DJ U5 and HOKUTO presents the brand new party, "URBAN BREEZE" is about to kick off!
In ARENA, mainly based on TOP 40 and HIP HOP, it also contains global standard URBAN MUSIC around the world, such as HOUSE, ELECTRO, TRAP, ROCK musics from the world wide hit songs with reliable skills of the DJs will definitely turn up your senses.
Besides, sexy GOGO DANCERS and international MC performances also excite the party.
It's all your choice the way you rock the floor, dance good, sing good, shout out with everyone, let's enjoy the premium Friday night once a month at ageHa!
-International Coupon-
And We offer a special discount service to the guest from overseas who are having a hard time to purchase our advance tickets. In order to receive this discount.
-STUDENT PASS-
ageHaは学生の皆様を歓迎します!
当日料金の半額でご入場できドリンクまで付いて超お得!
さらには専用レーンからのご入場で並ぶ心配もナシ!
(有効期限内の国内大学、専門学校等の学生証をお持ちの20歳の方)
---
【ARENA】
URBAN BREEZE
□GENRE
URBAN MUSIC / OPEN FORMAT STYLE
■RESIDENT
DJ U5 & DJ HOKUTO
■LINE UP
SHOTA
KOUKI
■VJ
ヤスダサチコ
■DANCER
YUYU & CANDY
■MC
JIROtokyo
■LIGHTING
Lightist Future
【ISLAND】
xxx
□GENRE
DANCE MUSIC
■RESIDENT
numbersixxx
■LINE UP
Leon
HAMMER
RISA
RIKA
Hi-Bow
【WATER】
Cat Ailand~rhythm4 party
□GENRE
EDM
■LINE UP
YURINA
HAYARO
Da1
SP!KE
HAGI
KENSHIRO
KIYO
【BOX】
CLOSE
---
---
---
(c)
iFLYER.tv
2006 - 2018