---
 STORM OF VOID / War Inside You Tour
---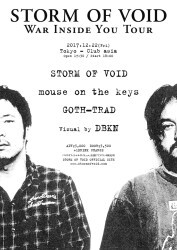 ---
時間
[DAY] DOOR: 17:30 START: 18:00 to 21:00
料金
前売り: \3000(D別) 当日:\3500(D別)
アーティスト
STORM OF VOID
,
mouse on the keys
,
GOTH-TRAD
,
DBKN
---
★ clubasia
東京都渋谷区円山町1-8
03-5458-2551
---
LINE UP:
◆ STORM OF VOID
◆ mouse on the keys
◆ GOTH-TRAD
Visual by DBKN
●MONO出演キャンセルのお知らせ
12月22日(金)開催予定のSTORM OF VOID"War Inside You tour"へ出演予定だったMONOは、ドラマーの脱退に伴い残念ながら出演がキャンセルとなりました。
楽しみにして頂いた皆様、関係者の皆様へ多大なご迷惑をお掛けします事を心よりお詫び申し上げます。
尚、出演キャンセルに伴うチケットの払い戻しは行いませんので、ご了承下さい。
----------------------------
Storm Of Void 'War Inside You Tour Final' - MONO cancellation information
It is with great regret that we announce that MONO will not be performing at Storm Of Void's 'War Inside You' tour final show at Club Asia, Shibuya on December 22nd, as their drummer has recently confirmed his departure from the band.
Our deepest apologies go out to all those who were looking forward to seeing MONO at the show, we hope you can understand that in the circumstances this cancellation is unavoidable.
Please be advised that refunds will not be offered on tickets due to this cancellation. We thank you for your understanding.
INFO: STORM OF VOID http://www.stormofvoid.com/
TICKET:
イープラス http://sort.eplus.jp/sys/T1U14P0010163P0108P002236244P0050001P006001P0030001
---
---
---
(c)
iFLYER.tv
2006 - 2018