---
 Gilles Peterson Japan 30th Anniversary Party
---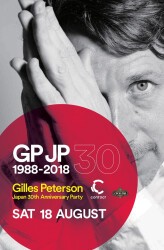 ---
時間
[NIGHT] 22:00 to 05:00
料金
Before 11PM \2000 | Under 23, Early Bird \2500 | GH S Members \2800 | Advance \3000 | w/F \3300 | Door \3800
アーティスト
GILLES PETERSON
,
松浦俊夫
,
kuniyuki takahashi a.k.a koss
,
TOSHIYUKI GOTO
,
ELLI ARAKAWA
---
★ Contact
渋谷区道玄坂2-10-12新大宗ビル4号館地下2階
03-6427-8107
---
Studio:
GILLES PETERSON (Brownswood Recordings | Worldwide FM | UK)
TOSHIO MATSUURA (TOSHIO MATSUURA GROUP)
Contact:
KUNIYUKI -Live
TOSHIYUKI GOTO
Michiharu Shimoda (SILENT POETS)
ELLI ARAKAWA
Supported by Cocalero
『英国の音楽伝道師が30年の節目を祝う』
Gilles Petersonほど長年に渡り影響力を維持しているDJがこれまでにいただろうか。選曲家、ラジオパーソナリティ、レーベルオーナーといった複数の顔を持ち、80年代からこれまで革新的なダンス・ミュージックの第一線を走り続けてきた彼は、アシッドジャズ、ラテン、ブロークンビーツ、バトゥカーダなど、反応せずにはいられないとびきりファンキーでホットな音楽を世界各地から紹介してきた。そんな彼の初来日から30年。日本への愛を深めてきたGilles Petersonの大きな節目をStudio Xフロアで祝福する。
多彩な楽曲で構成されるGilles PetersonのDJセットに加えて、90年代にU.F.O.として"ジャズで踊る"シーンを牽引し、今年新しいプロジェクトによる作品がGillesの主宰するレーベルからリリースされ、ヨーロッパを中心に話題となっている盟友松浦俊夫も登場。
そして、ふたりのエクレクティックなサウンドに呼応するライブセットをContactフロアで披露するのは、"mule musiq"の常連アーティストKuniyukiだ。ハウスミュージックの構造をほのかに取り入れたパフォーマンスが、一夜の流れを美しく彩ってくれるだろう。さらに、多数の名作を残し、日本のアシッドジャズを語るうえで欠かすことができないプロジェクトSilent Poetsを手掛けるMichiharu Shimodaも参加。万全の準備を整えた祝宴で夏の夜を楽しみつくす!
「A night of globe-spanning funk, soul, jazz and beyond with the legendary tastemaker」
Few DJs have the lasting influence and reach of Gilles Peterson. As a selector, broadcaster and label boss he's been at the forefront of evolutionary soul music since the 1980s. From acid jazz to salsa, broken beat to batucada and beyond, Peterson has flown the flag for warm, infectious and downright funky music from every corner of the globe.
It's been 30 years since Peterson first toured Japan, and his love for the country has only deepened over time, so he's taking over the Studio X floor to celebrate this major milestone in his career. Alongside an eclectic set from Peterson himself, the night will be appropriately rounded out by long time ally Toshio Matsuura, formerly a member of seminal 90s acid jazz outfit United Future Organization.
On the Contact floor, "mule musiq" regular Kuniyuki will be performing a live set that complements the soulful sound of Studio X with a subtle injection of 4/4 house structures. Kuniyuki will be joined by another legend of Japanese acid jazz - Michiharu Shimoda, whose Silent Poets alias was prolific through the 90s and continues to produce high quality albums to this day.
---
---
---
(c)
iFLYER.tv
2006 - 2018