---
 Eureka! feat. S3A & Jaxx Madicine
---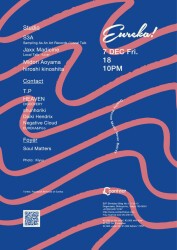 ---
時間
[NIGHT] 22:00 to 05:00
料金
Before 11PM \1000 | Under 23 \2000 | GH S Members \2500 | w/Flyer \3000 | Door \3500
アーティスト
MIDORI AOYAMA
,
hiroshi kinoshita
,
T.P
---
★ Contact
渋谷区道玄坂2-10-12新大宗ビル4号館地下2階
03-6427-8107
---
Studio:
S3A (Sampling As An Art Records | Local Talk)
Jaxx Madicine (Local Talk) -Live
Midori Aoyama
hiroshi kinoshita
Contact:
T.P
HEAVEN
shunhoriki
Daiki Hendrix
Negative Cloud (EUREKA & Pico)
Foyer:
Soul Matters
[Photo]
Kiyuu
『パリ、そしてミラノから2組のアーティストが登場』
Sampling As An Artという名の通り卓越したサンプリングセンスとローファイなプロダクションで、MoodymannやLaurent Garnierからも評価が高く、パリの名門クラブRex Clubでレジデントを務めるなど実力も折り紙つきのS3Aは、今年レーベル"Eureka!"から「Mountain Charr」をリリース。近年注目を集めるミラノのクラブシーンから彗星のごとく現れたJaxx Madicineは、スペーシーなサウンドを武器に昨年"Local Talk"からデビューアルバム「Distant Classic」を発表。年末には"Eureka!"から「Astral Changes」のリリースを控えている。2組の所縁あるアーティストが東京でどんな化学反応を魅せるか必見だ。
「2 group of Artist from Paris, and Milano」
Sampling As An Art (S3A), just as his name, has gained the likes of Moodymann and Laurent Garnier for his excellent sense of sampling and lo-fi productions, along with holding a residency at Paris' prestige Rex Club and the release of「Mountain Charr」from "Eureka!" this year. Joining the lineup, who has been on the rise in Milan's club scene, is Jaxx Madicine. The spacey-sounding debut album「Distant Classic」from the label "Local Talk" last year will be followed by「Astral Changes」through "Eureka!" the end of this year. Don't miss the chemical reactions the two will create sonically.
Open 10PM
\1000 Before 11PM
\2000 Under 23
\2500 GH S Members
\3000 w/Flyer
\3500 Door
---
---
---
(c)
iFLYER.tv
2006 - 2018